Things have not exactly gone according to plan for the 2017 New York Mets thus far. As the season continues to move along quickly, the Mets find themselves sitting four games under the .500 mark at 30-34 and looking up at an 8.5 game deficit in the National League East and a 9 game deficit in the NL Wild Card race. Despite sitting seventh in runs scored in the National League, the Mets have been undone by injuries, a pitching staff that shockingly sits in 11th place in WAR in the NL, and a defense that is not much better currently occupying the 10th place spot in defensive runs saved amongst the 15 NL teams.
That being said, the Mets have started to play better baseball of late. New York enters an important series with the division-leading Nationals as winners in six of their last eight. While it feels like this season has been a disaster beyond repair, Fangraphs still gives the Mets over a 15% chance of making the postseason. While those odds are not great, the Mets are not dead in the water with close to 100 games remaining. All this said, if the Mets are going to start making a move, it starts right now. In order to do that, they should be prioritizing putting the best team on the field every night, and for that to happen, a call to Las Vegas should be in order.
If you follow the Mets even remotely closely, you know the name Amed Rosario. Signed in 2012 for $1.75M as an international free agent out of the Dominican Republic, he has moved quickly through the Mets system, getting better at every level. As Rosario has refined his game, the baseball community has taken notice.
Prior to the 2017 season, Baseball America ranked the young shortstop as the eighth best prospect in baseball (three of these players have since graduated to the big leagues), while MLB.com put him at number three. Keith Law, who maintains a list of prospects for ESPN, ranked Rosario in the top spot entering the season, saying, "he has MVP potential as a true shortstop who will be above average defensively and projects to hit .300 with some walks and power."
Rosario has lived up to the hype thus far in AAA, slashing .338/.379/.504 with seven home runs and 12 stolen bases on 16 attempts. Rosario has made 11 errors thus far, which is a very high number, but the one prevailing thought on this player is that his defense will develop into arguably his best weapon. Add all of this up, and you have the most hyped Met infield prospect since the days of David Wright and Jose Reyes.
Speaking of Jose Reyes, things have come full circle, as with starting shortstop Asdrubal Cabrera recently added to the disabled list, Reyes is the biggest road block preventing Rosario's call up. There is no denying Jose Reyes, was a star Met in his first tenure with the club, quickly becoming a fan favorite, and elevating himself to be a sure Met Hall of Fame inductee in Queens one day. Even in 2016, when Reyes returned to New York, he provided a much-needed spark for the club down the stretch and helped them secure a postseason birth.
Unfortunately for Reyes, 2017 has been a disaster from the start. Now 237 plate appearances into the season, Reyes is hitting below the Mendoza Line at .189, and has put together a putrid wRC+ of 50 with a WAR of -0.7. For some context, of qualified hitters at all positions in the league, Reyes has the fourth worst wRC+. Despite this, with a clear opportunity to pass the torch to the future of the organization, the Mets have decided to hand the keys back to Reyes for the time being and let him play every day in his natural position.
It seems like for the past month or so, the Mets have been given every excuse in the book to not call up Amed Rosario. It has ranged from the fact that the Met pitching has struggled, and Rosario does not pitch, to the fact that the Super 2 deadline was looming, to arguing his defense was not polished enough, and now it is apparently his offensive game that is lacking despite having rattled off a 16-game hit streak this season. The Mets continue to operate as though Rosario is a filet mignon on the grill, that needs just a little bit more seasoning to be cooked perfectly. The reality, however, is that while Amed Rosario may not be totally ready to hit his peak stride in the big leagues, he can, and most likely will help this ball club win games.
As mentioned earlier, Jose Reyes has simply been awful this season. Giving him at-bats every day over a star prospect makes very little sense from a wins and losses perspective. To provide more production than Reyes, Amed Rosario would simply have to be a replacement level player. For those who do not understand, a replacement level player is meant to be any player that can be had at no marginal cost on the open market. If Rosario cannot even be replacement level, there are bigger issues at hand.
The argument then could be, that it is only ten days, and there is no reason to call up Rosario if Cabrera will be right back. This argument does not hold water, as Asdrubal Cabrera has not been good this season either. Currently flashing a wRC+ of 93, Cabrera has been seven percentage points below the average hitter. While that is not good, the larger problem is how bad Cabrera's defense has been at shortstop. While the veteran is battling injuries, he has looked slow, had limited range, and is botching routine plays. The eye test is supported by the numbers as the Mets have the worst defensive runs saved at shortstop in all of baseball, nearly doubling the team closest.
The Mets have a pitching problem, but it makes it even harder to pitch when you cannot field the baseball up the middle. To pile on, an injury to Neil Walker in Wednesday night's win over the Cubs provided another opportunity to call up Rosario. However, the Mets are sticking to their guns and calling up Gavin Cecchini. While Cecchini is getting the call, it is reasonable to assume TJ Rivera will get most of the time at second base, which makes sense as he is probably the best option to fill in for Walker. That bring the Mets back to the discussion at shortstop, where Reyes will remain for the time being. It is very clear, that even if Amed Rosario is bad, he could still be better than what the Mets are playing every day at shortstop. If he hits his potential, the room to upgrade is massive.
The only reason the Mets could feasibly not want to call up Amed Rosario right now is that they feel if he comes up he will be exposed, and this will shatter his confidence beyond repair, and thus they will ruin his development. This is an exhausted theory, that the Mets continue to reach for as the basis of their conservative handling of prospects. The Mets can take a look at a similar former top shortstop prospect as a roadmap in this situation. This former top prospect's last partial season in AAA is compared to Rosario's below:
| | | | | | | |
| --- | --- | --- | --- | --- | --- | --- |
| Name | Plate Appearances | Batting Average | On Base Percentage | Slugging Percentage | Steals | Errors |
| Former Prospect | 262 | .284 | .350 | .402 | 9 | 8 |
| Amed Rosario | 282 | .338 | .379 | .502 | 12 | 11 |
That former prospect is named Francisco Lindor. For those who have been paying no attention the past few seasons, he jumped up to the Cleveland Indians about this time in 2015, became a 4.5 WAR player in 99 games, and then carried that into a 2016 where he played as arguably the best fielder in all of baseball, and was a top of the order force for a team that played until Game 7 of the World Series. Oh yeah, and he is still only 23. Looking at his AAA numbers did not suggest he was primed to be a star right away, but as many of the great players do, when he got to the show, he was the instant impact player everyone thought he would be.
While becoming the next Lindor is the dream for the Mets and Rosario, they can look in their own dugout for what can happen if the development plan is not a straight line. In 2015, the Mets needed offensive help. They went through much of the same discussion being had now with a kid named Michael Conforto who they had drafted in the first round a year earlier. Conforto had never even played above AA, but for a team trying to make a run to the playoffs, they called him up and gave him a chance. It worked out great, as Conforto posted a 133 wRC+ and slugged three home runs in the postseason, including two in the World Series.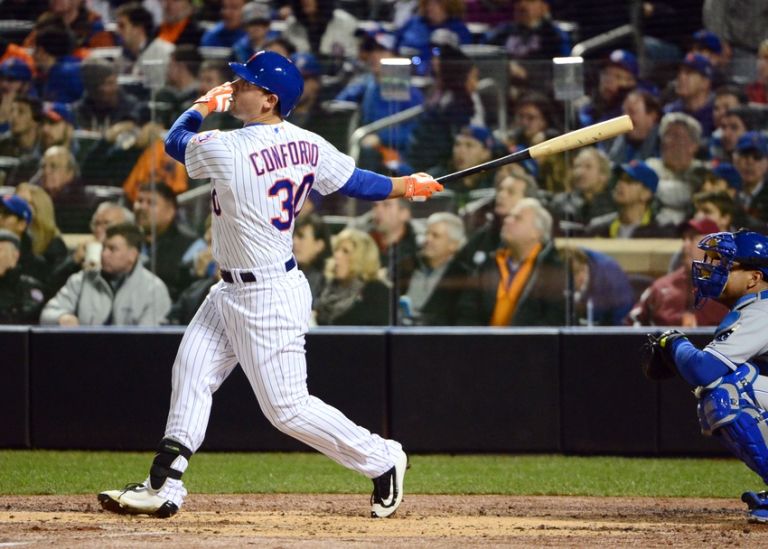 Conforto showed he could make an immediate impact, but went through growing pains the next season. His 2016 season was ugly, as he rode the taxi squad up and down between the minor leagues. Many thought the Mets had ruined the young outfielder, including the Mets themselves, who had intentions on starting Conforto in AAA. All he has done in 2017, however, is put up the fourth-best WAR of any outfielder in the National League. The good ones figure it out, even if it is not a direct shot. If Amed Rosario is really a future MVP candidate like Keith Law suggests, he is going to be good, and even calling him up too soon will not ruin that.
The Mets are at a crossroads in their season, and it is time to decide if they are serious about winning in 2017. If they are, then they should call up Amed Rosario and give the young man a chance to provide the lift the Mets need at their worst position on the field. If they are not serious about 2017, they can continue to give their veterans at-bats, and hope to flip them at the trade deadline and free space later in the summer for Rosario. The reality is that almost nothing is going to change between now and August for Rosario while he plays in AAA. He has shown he has conquered that level of competition, and it is time for him to take the next step in his development. After all, it just may be a big piece in turning the season around.